GCF announces the passing of industry legend Tom Hardin General Credit Forms, Inc., and the McCormick Family of Businesses, is sad to report the passing of our friend and colleague, Tom Hardin. Mr. Hardin passed away on April 30, 2015, at the age of 80. He will be missed by all that knew him and the many that remember him as an industry leader throughout his life.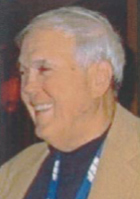 Born Lewis Thomas (Tom) Hardin III on January 30, 1935, Mr. Hardin spent more than five decades in the transaction processing industry. After receiving an engineering degree from the University of Tennessee, Mr Hardin spent several years with IBM, who had developed tab card processing for the credit card industry.
Tom left IBM in the early 1970s and joined General Credit Forms in its infancy. At General Credit Forms, Tom pioneered the paper sales receipt that could be optically scanned by computers, replacing the tab card for the credit card industry. This was the beginning of many innovations to come. Tom's efforts and relentless focus on the changing needs of the credit card industry positioned General Credit Forms as an industry leader during his tenure of more than 30 years with the company.
During this time, Tom guided software developers, customers, competitors and industry associations in a meaningful direction to achieve the efficiencies that we take for granted today. Tom was an industry pioneer and spent years serving the industry as a board member of trade associations such as the National Retail Merchants Credit Division, Bankcard Services Association, and the American Bankers Association Bankcard Division. In addition, Tom was a central figure, supporter and expected participant in hundreds of trade shows supporting the banking, petroleum and retail industries. He offered information, help, support and friendship to all concerned, be they friends, strangers or competitors.
Tom was a devoted father and husband. Tom was preceded in death by his wife Kathleen, and is survived by his sons Joel and Scott.
Tom was an avid outdoorsman, and remained active with his many hunting and golfing friends to the very end. He will be sorely missed by all.
For more information regarding Mr. Hardin, General Credit Forms, Inc., or the McCormick Family of Businesses, please contact Bryan Eovaldi, President, GCF, at (314) 216-8600.
https://gcfinc.com/site/wp-content/uploads/2015/05/tomhardin.jpg
199
140
General Credit Forms
/site/wp-content/uploads/2015/02/gcf_logo.png
General Credit Forms
2015-05-05 15:50:09
2015-10-13 16:52:42
Tom Hardin: Friend, Colleague and Industry Pioneer